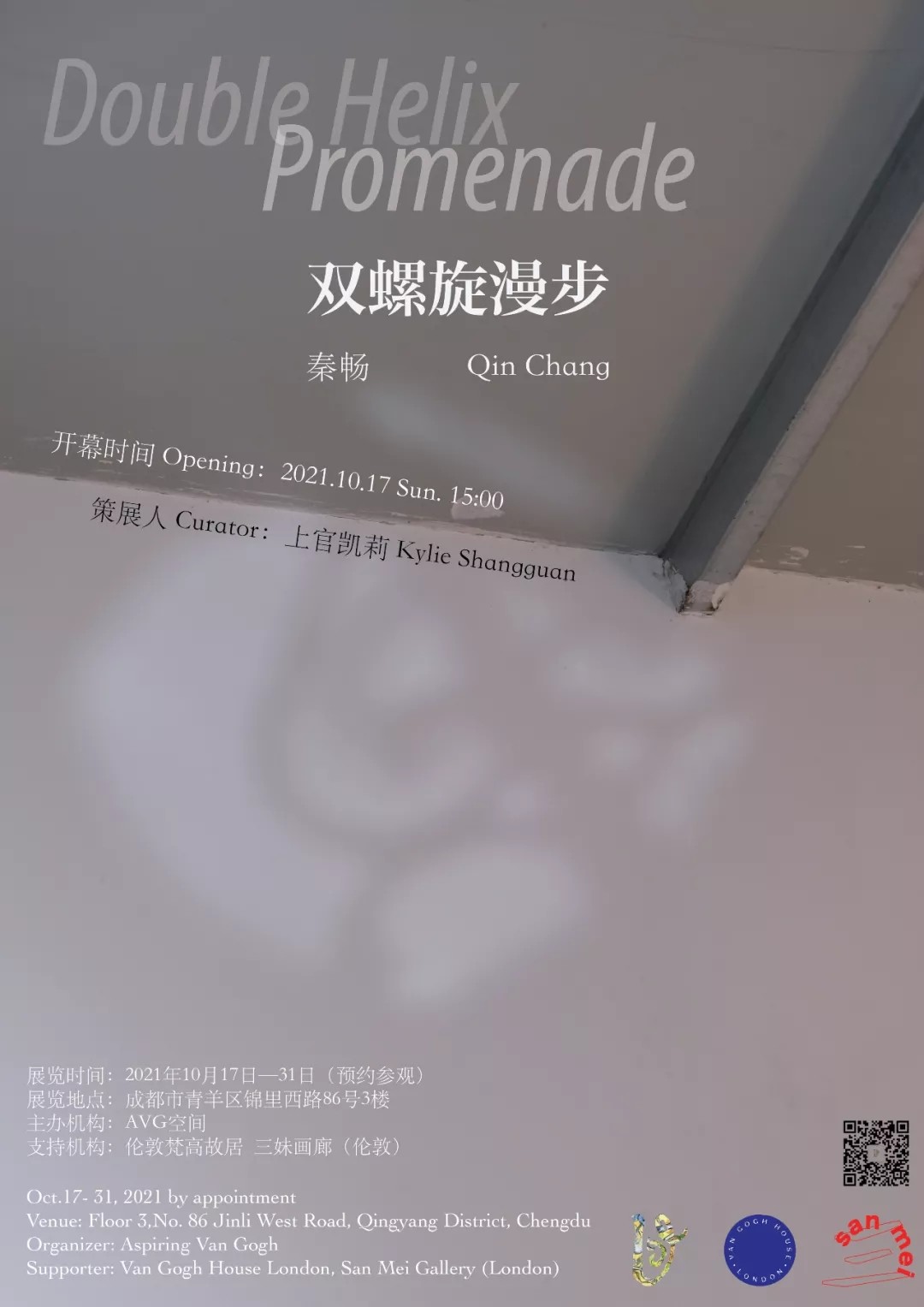 开幕时间:2021年10月17日 周日 下午15:00
展览时间:2021年10月17日—31日(预约参观)
Curated by Kylie Shangguan
Opening: 3:00 PM, Oct.17, 2021Oct.17- 31, 2021 by appointment
Venue: Floor 3,No. 86 Jinli West Road, Qingyang District, Chengdu
Organizer: Aspiring Van Gogh
Supporter: Van Gogh House London, San Mei Gallery (London)
 "双螺旋漫步"是由AVG空间发起,伦敦梵高故居基金会资助的一系列支持新兴艺术家的驻留展览。本次将展出的是经过筛选而出的艺术家秦畅,通过驻留之后所呈现的系列作品。
"Double Helix Promenade" is a series of residency exhibitions supporting emerging artists initiated by Aspiring Van Gogh and funded by the Van Gogh House Foundation in London. This time, the series of works presented by the selected artist Qin Chang will be exhibited after her residency.
在谈论自己的理论构建时,鲍德里亚曾提出过一个类似DNA构造的双螺旋:"一个是朝向记号、拟像和模拟领域的普遍旋曲,另一个则是在诱惑和死亡阴影下,所有记号的可逆转性质。在螺旋线上,这两个范式各自分化,却没有改变它们的对立位置。
"When talking about the construction of his theories, Baudrillard once proposed a double helix structure similar to that of DNA: "a spiral swerving towards a sphere of the sign, the simulacrum and simulation, a spiral of the reversibility of all signs in the shadow of seduction and death. The two paradigms are diversified in the course of this spiral without altering their antagonistic position. "
这个结构中包含了一个稳定的时间体系,螺旋线徐徐攀升。这让我不禁想象,如果将时间线抽出,就像从某一点挣断串珠项链,是不是就会得到一个扁平的、直径无限大的圆?散落的每一颗珠子都可以是圆心。
This structure contains a stable timeline, and the spirals swerve at a constant speed. I started to wonder: if I were to somehow extract the timeline, like breaking a beaded necklace from a certain point, would I obtain a flat circle with infinite diameter? Each and every scattered bead could be the center.
在这次的作品中,我把自己当成在螺旋线上散步的人,将现实和虚构的时刻进行摘取、混淆、堆积、转译,同时寻找破裂的契机。力度,湿度,粘稠度,剩余物,这些在创作语境中有特殊重要性的变量成为了新的时间线。刻意做旧的物品和实实在在的旧物摆放在一起,形成模棱两可的时间差。不存在的时空中的朔望。在这条新的时间线里,肌肤的接触,油脂的转移,停顿与重复,物件因此得到转换,成为真实的情感建构和投射的场所。
During this residency, I imagine myself taking a stroll on the spiral, confusing, extracting, accumulating, and translating moments of reality and fiction, while secretly looking for windows of rupture. Strength, humidity, viscosity…Variables of special importance in the context of making become the new timeline. A deliberately aged material placed in juxtaposition with found objects of unknown history forms an ambiguous time difference. Syzygy in an anachronistic second. Yet, during the rubbing, pounding, molding, the transfer of grease, the pauses and repetitions, these objects and materials are transformed and become real sites of emotional construction and projection.
1996年生,毕业于美国波莫纳学院,现生活工作于重庆。她的工作关注物质在组成生活、记忆和虚构场景时不透明的纠缠,劳作中停顿的时刻,重复间的细微差异,用物件和装置重构寄居于语言间隙中的沉默的认知切片。
website: www.chungqin.com
b.1996, graduated from Pomona College, Claremont, CA and currently lives and works in Chongqing. Her work explores the opacity of how materials assemble to construct sites of inhabitancy, memory, literature and fantasy. Coming from pauses and repetitions, her objects and installations reconstruct slices of perception that slip through linguistic metrics and inhabit the silence.